---

December 25, 2009
Christmas Day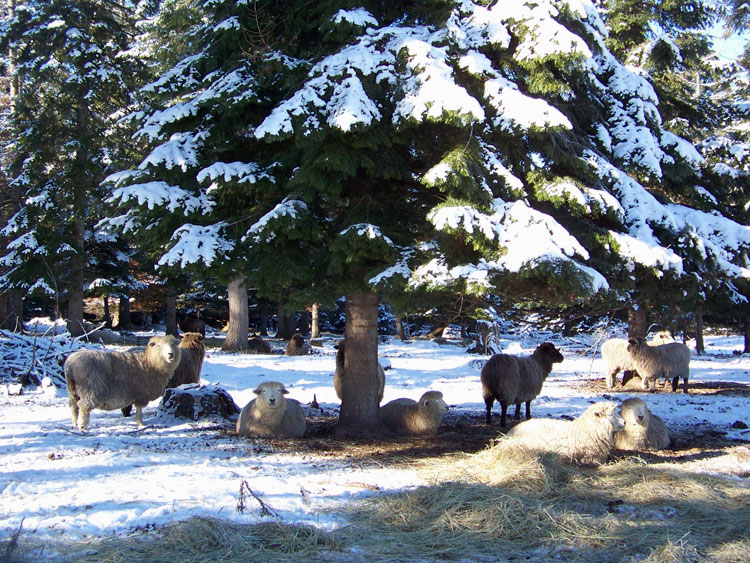 We've had an open winter so far with very little snowfall, but the frigid temps have made it clear that it's definitely winter! The 40+ SkyLines ewes are in their wooded winter pasture now, sheltered from the weather by dense evergreen trees. They'll stay here for most of the winter - until shearing day in March or until we get too much snow to keep the road to this pasture open. Then everybody will move to the more accessible barn pastures.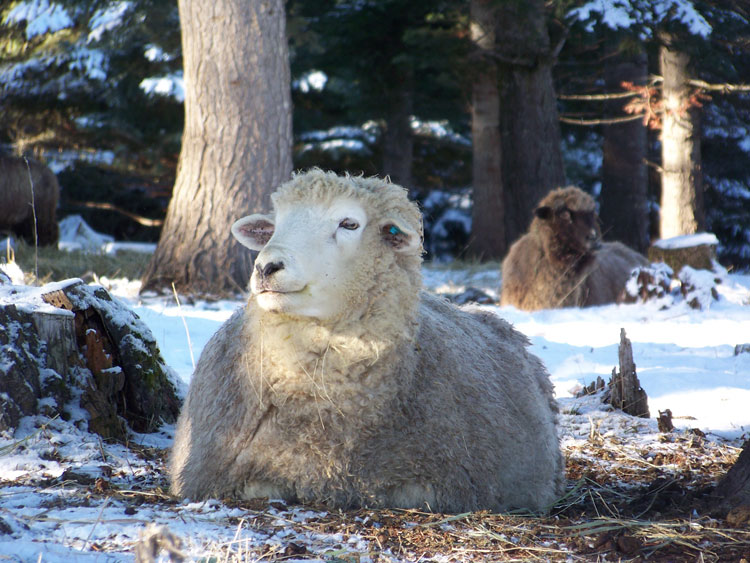 White Cameo and natural-colored Ashley
---
October 23, 2009

Warm days and cold nights signal the arrival of fall.
Most of the farm's pastures have gone dormant now, and hay feeding season has begun.
Here, some of the 2009 ram lambs dig into a round bale of mixed grass hay
(and take every opportunity to play king of the hill!)
---

September 5, 2009
Labor Day Weekend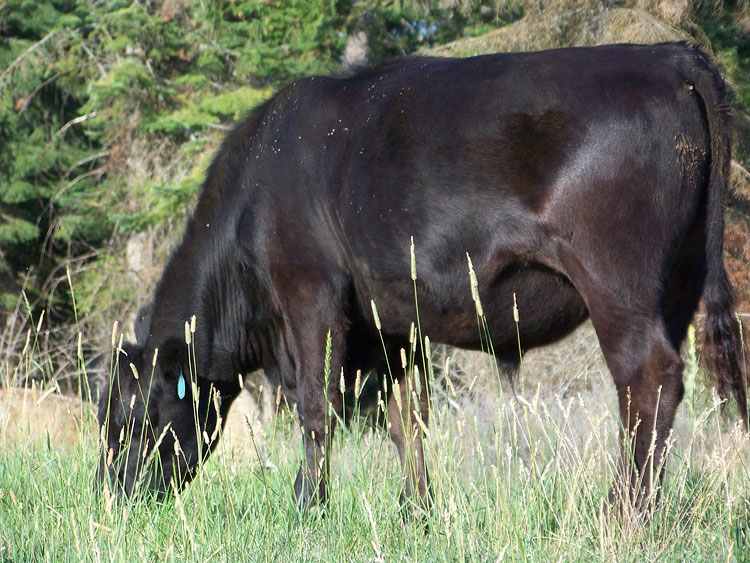 Summer's nearly over now, and the hint of fall is in the air.
The calves have been grazing the farm's lush green pastures
all summer long and are looking sleek and healthy!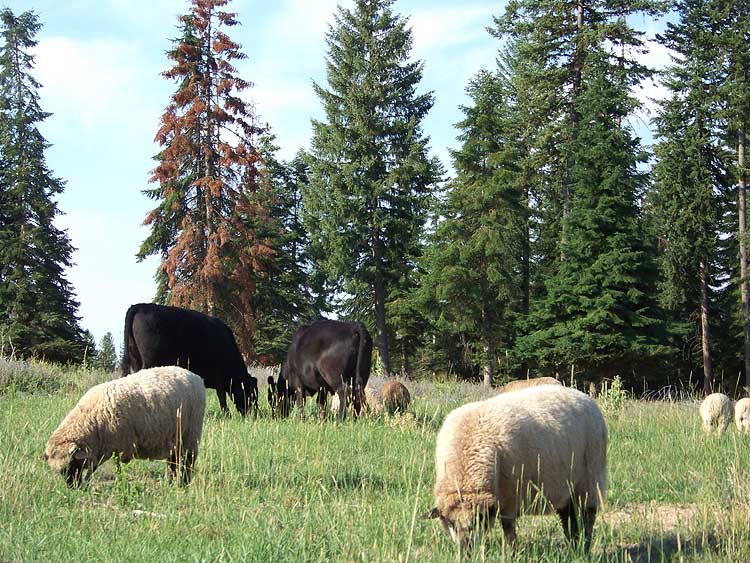 The sheep and calves live together harmoniously
all year round (except for the few weeks of lambing season).
Their grazing preferences complement each other, which helps keeps
the SkyLines pastures healthier and even more productive.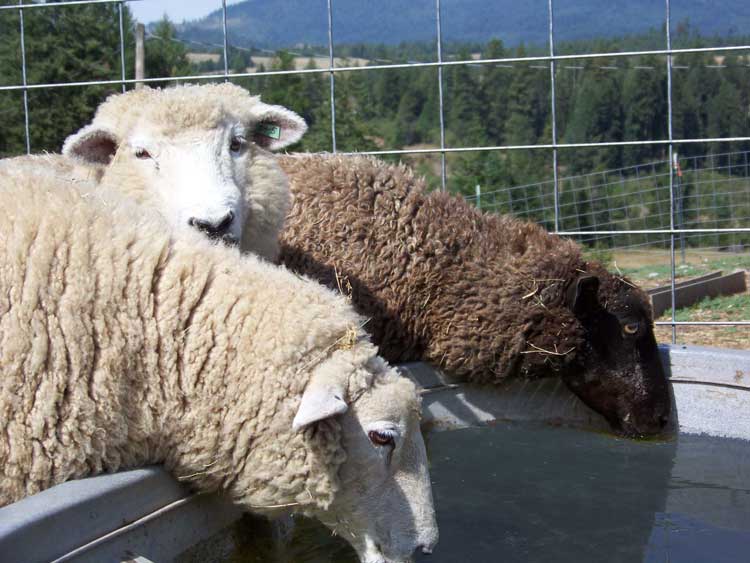 Three ewes at the water trough. Norma checks me out
while the others drink their fill of the cool clean water.
---

May 30, 2009
It's Summertime & the Livin' is Easy . . .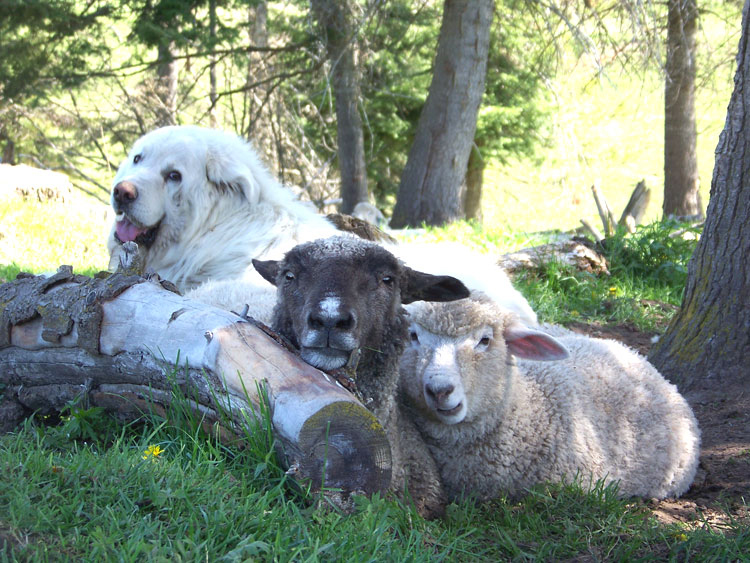 Summer arrived even later than usual this year, and when it did, it was suddenly HOT! Today it's about 90 degrees
and sheep and dogs are spending the day in the shade, waiting for evening when the sheep will resume grazing.
Here, Angus the male Great Pyrenees has found a cool spot to share with a ewe and her lamb.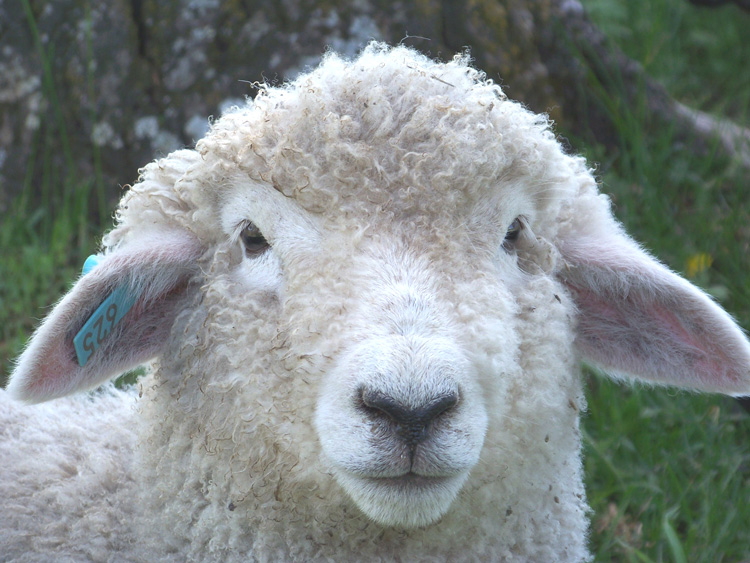 A wether lamb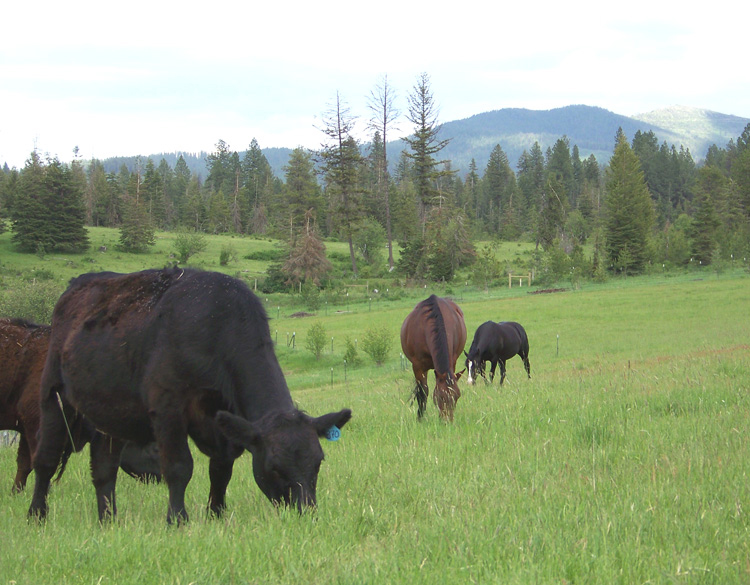 After such a long winter, the fresh green summer grass is enough to lure the beef calves and horses
out of the woods on even the hottest of days!

---
March 14 and March 21, 2009
Lambing School
Due to popular demand, this year I added a second session of my annual Hands-On Lambing Schools. Both days sold out, and I was delighted to meet so many folks interested in learning how to raise my favorite farm animals! Here are some photos of the two days, contributed by participants. I'm always too busy to take pics during workshops, so thanks to everybody who sent in theirs!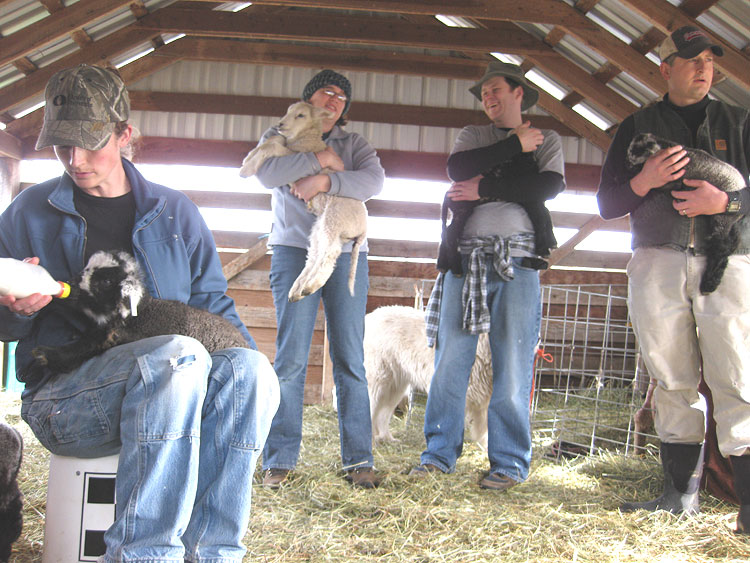 Bottle Lineup. Everybody took a turn at feeding the bottle lambs, always a popular activity during Lambing School!
Here, several lambs get cuddled while they wait in line.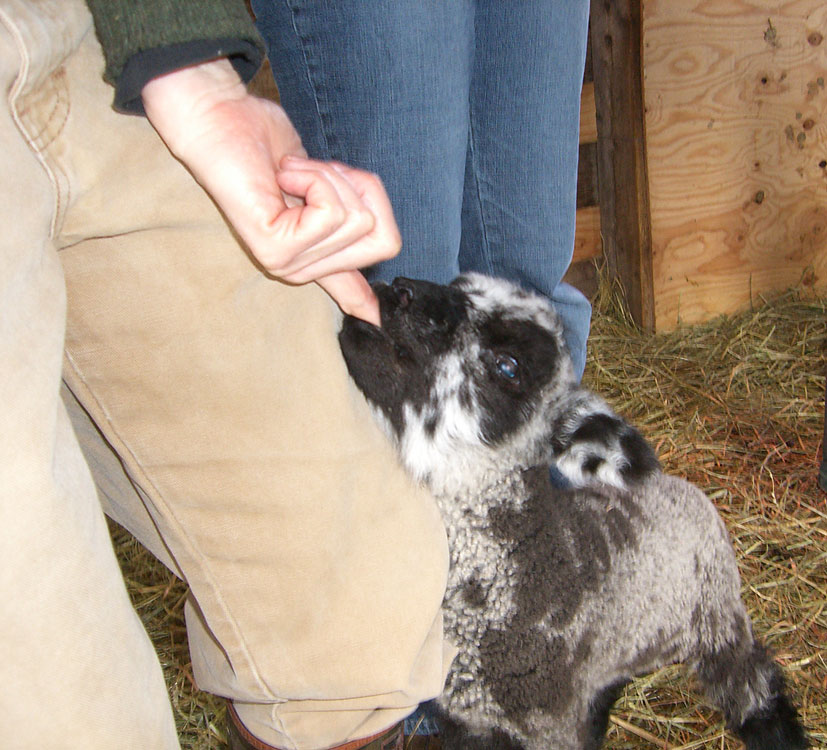 This little guy couldn't wait for his turn!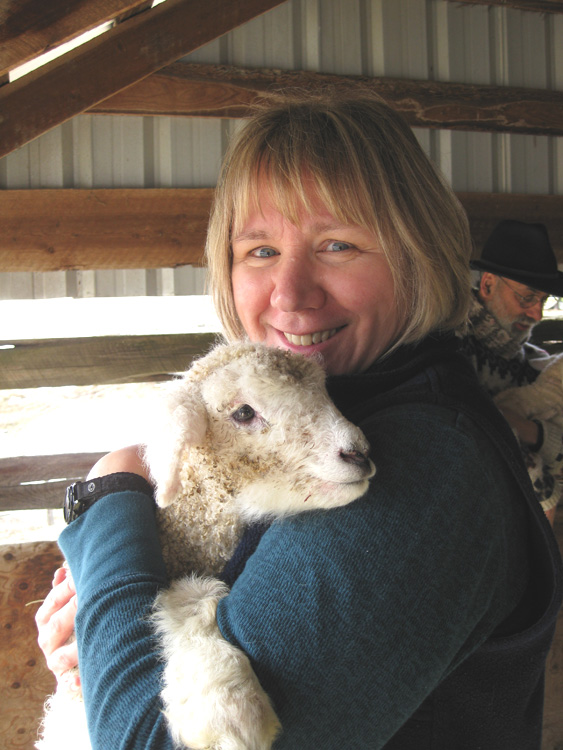 Lamb cuddling is encouraged throughout the day . . .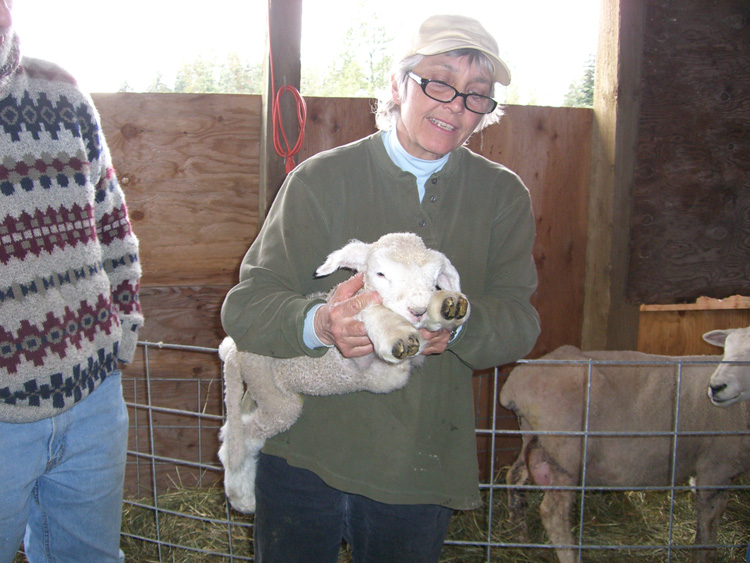 The shepherdess demonstrates how a lamb literally "dives" out feet and nose first during a typical delivery
(this lamb is not a newborn but was recruited for the demonstration).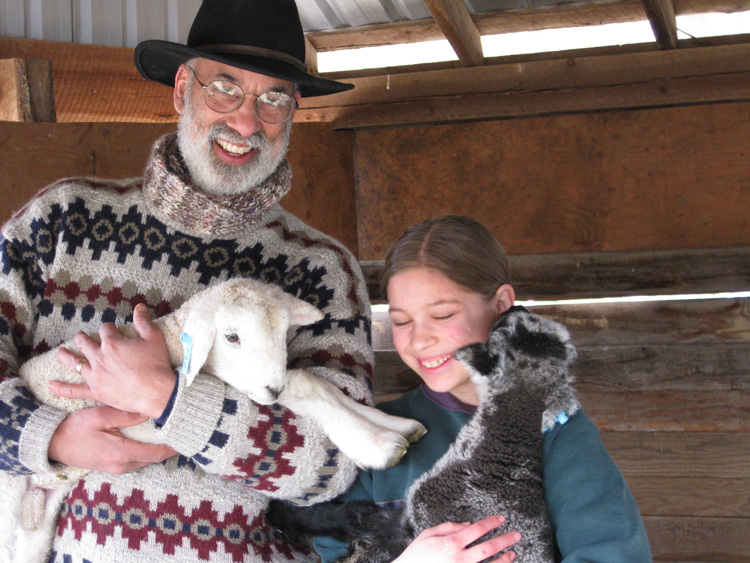 Careful, lamb cuddling can cause the giggles . . .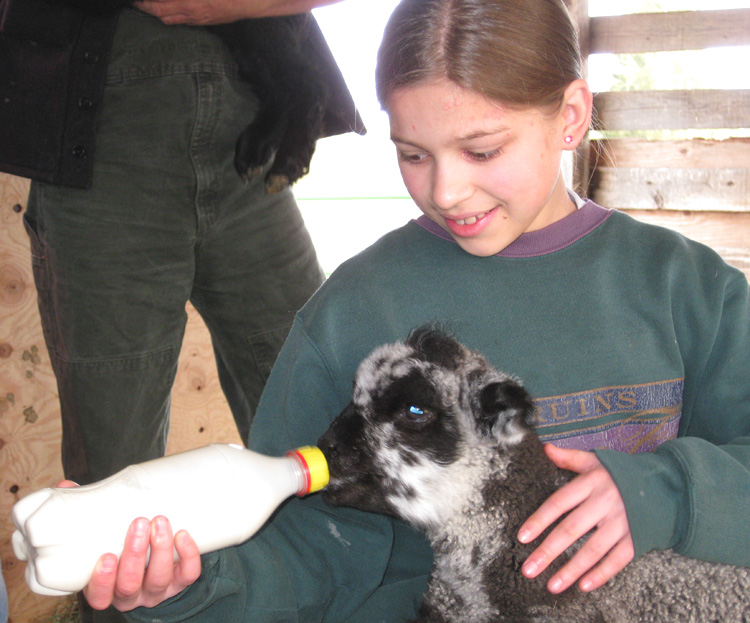 Afternoon bottle feeding chores . . .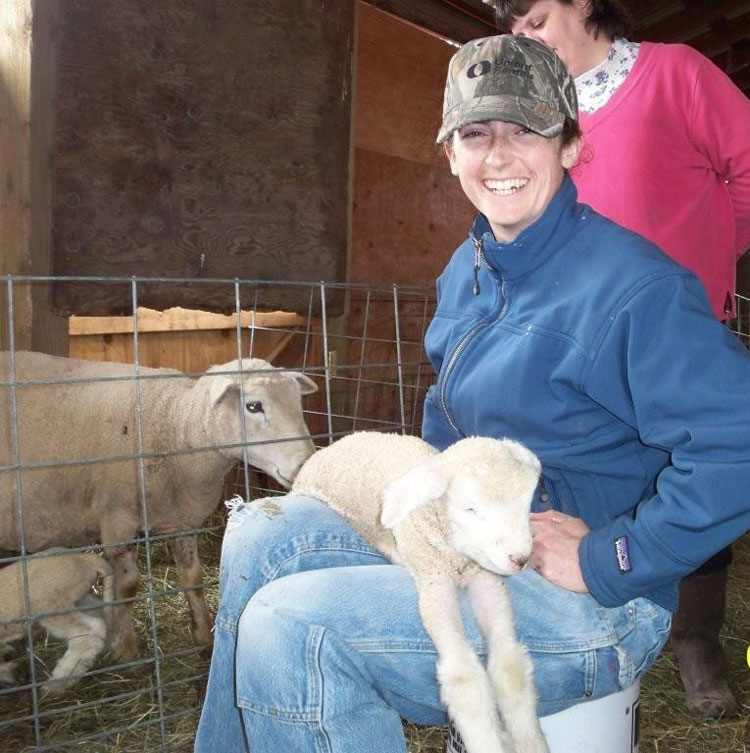 Participant prepares to "process" a newborn lamb. When each lamb is between 12 and 24 hours old, I band its tail, install an ear tag, castrate most of the boys, and record all of the details in my Lambing Book.
Banding tails, castrating, and ear tagging are three activities that every shepherd needs to know about.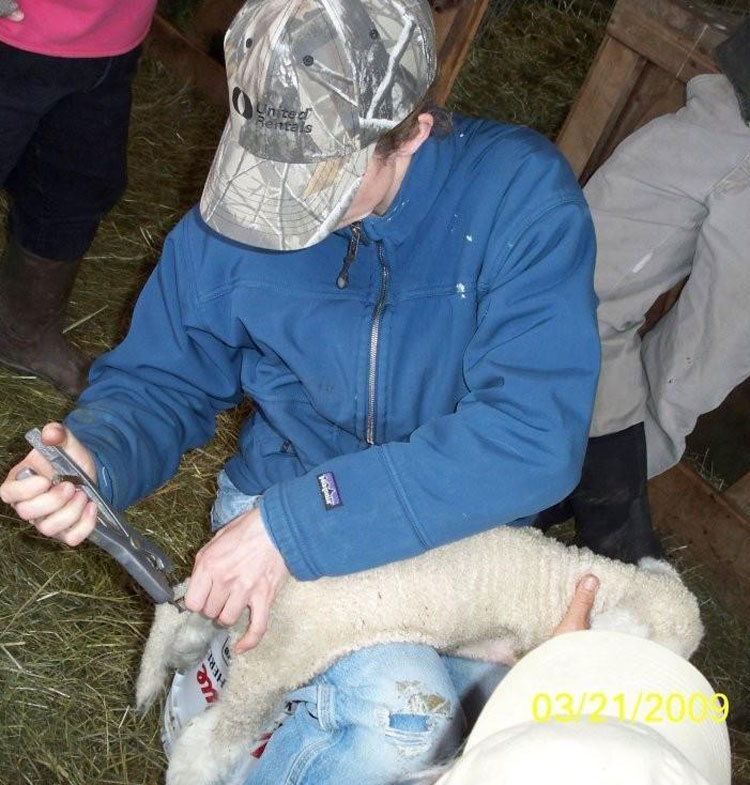 "Banding" the lamb's tail with a very small rubber band. Over the course of about two weeks, the tail will wither and fall off.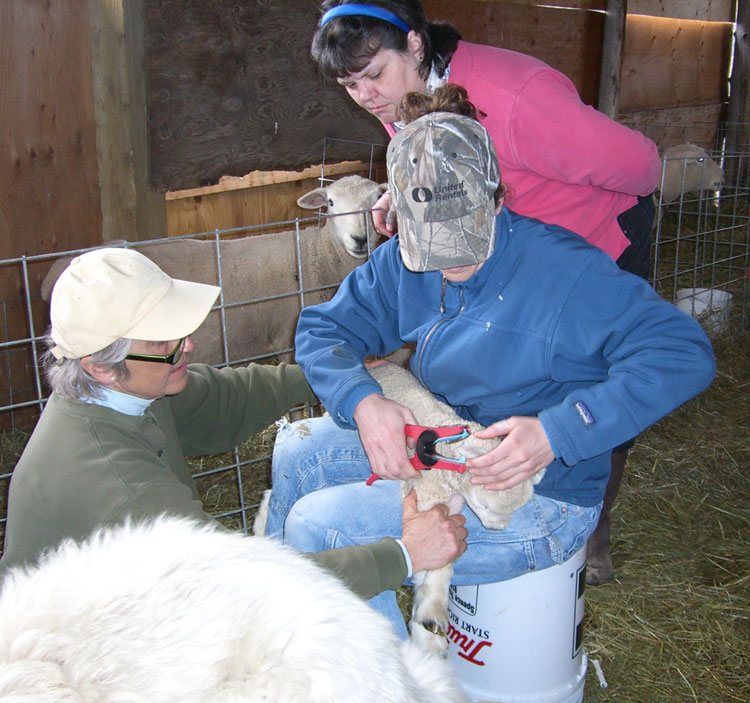 Giving the lamb an identifying ear tag. It's a good idea to tag (or tattoo) every lamb in the flock with a unique number.
This allows you to track each lamb's pedigree, growth rate, health history, etc., which is an important part of managing
the productivity of your flock.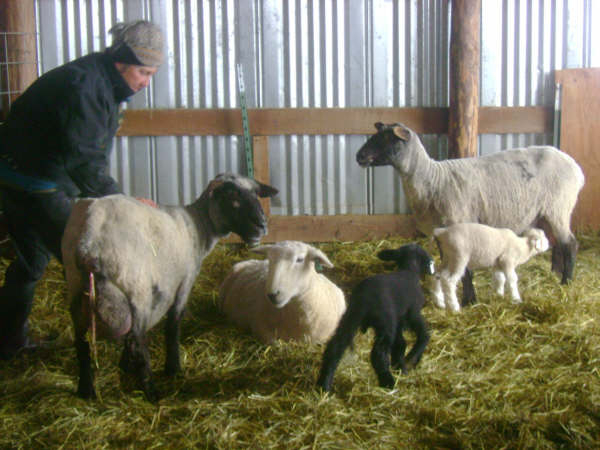 The shepherdess checks on a ewe (far left) who's about to go into labor during the March 7 workshop.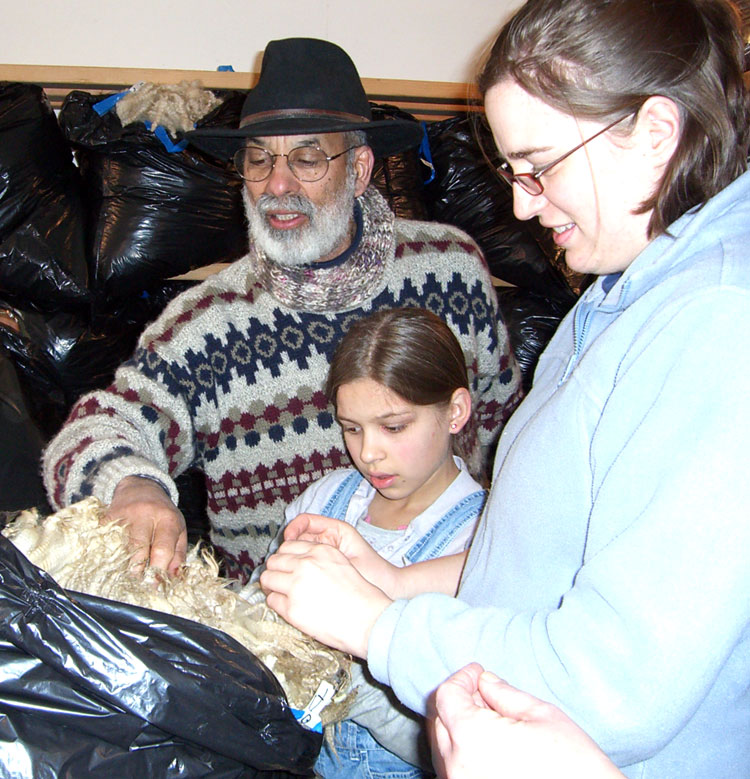 Participants examine a freshly shorn fleece in the SkyLines wool house.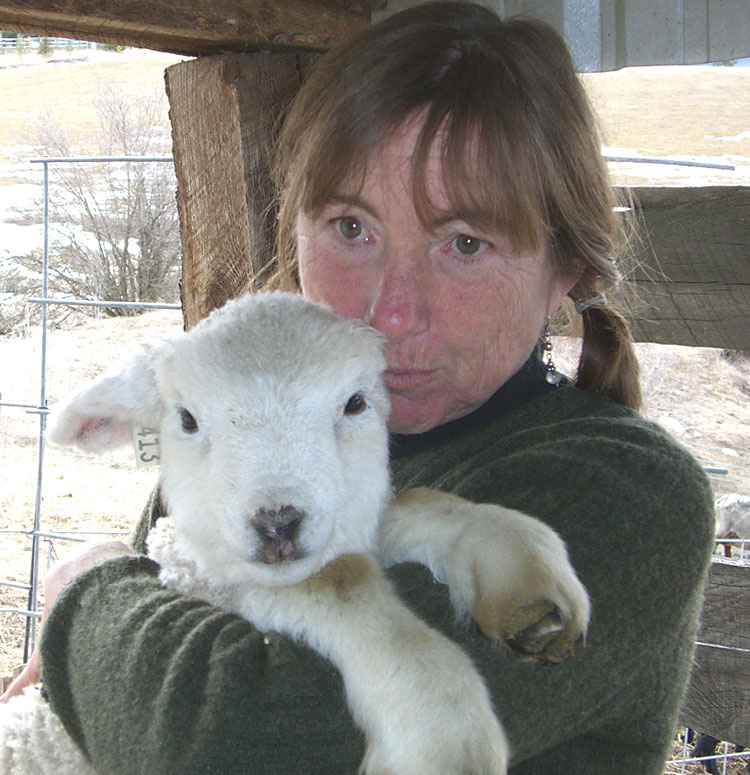 More lamb cuddling. Beware -this can inspire a meditative state . . .
---
March 2009
Lambing Season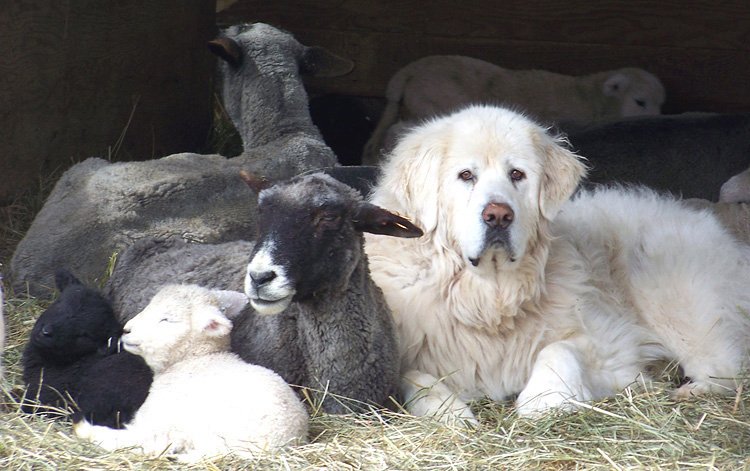 This year, all five SkyLines Great Pyrenees Livestock Guardian Dogs (LGDs) are spending lambing season in the barn area
with the ewes and their babies. Here Pyrenees Vera lounges with sheepy pal Ariel and her twin lambs.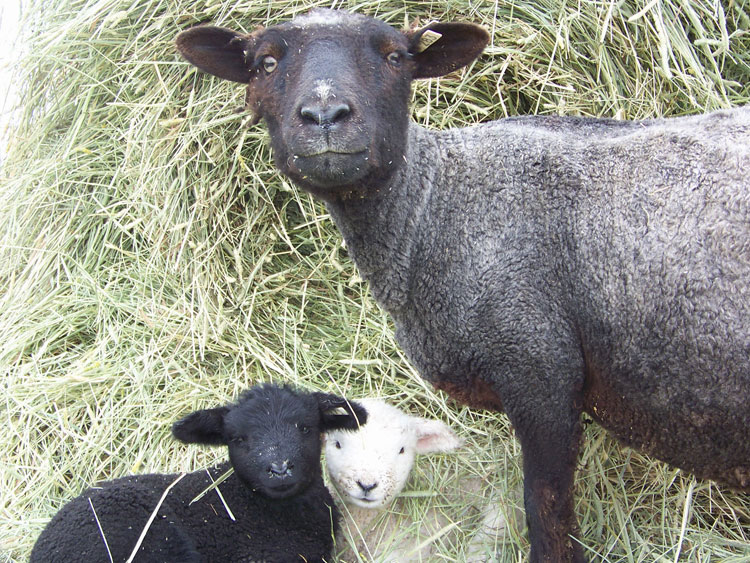 Romney-Montadale ewe Beverly and her young
mirror-image boy-girl twins.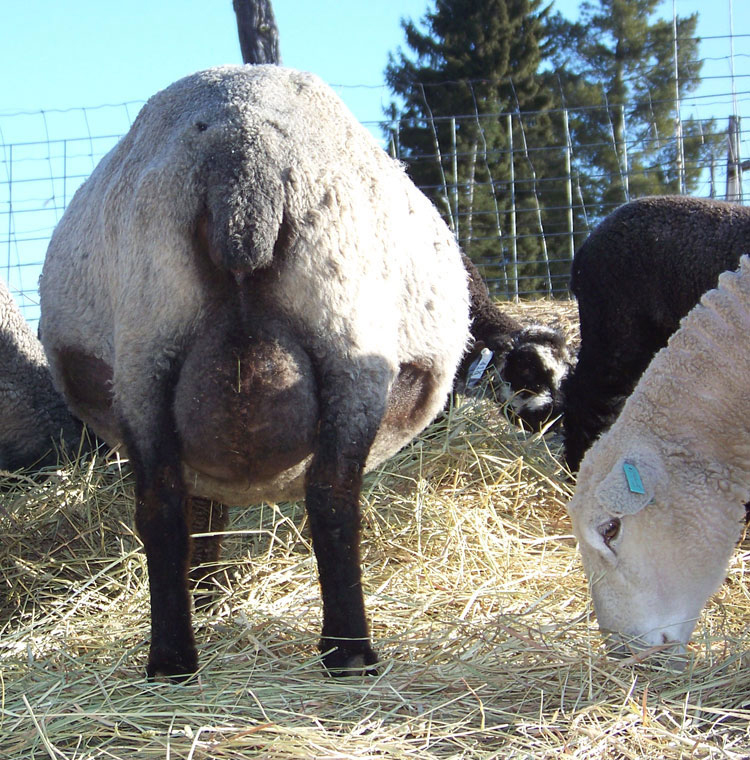 Louise is one of the last three ewes waiting to deliver, and it looks like she may be brooding triplets again this year!
---
January 11, 2009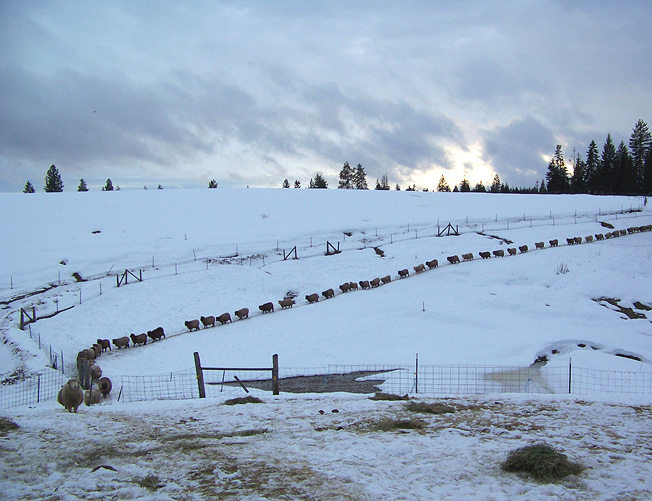 Every day or so during the winter, the SkyLines Farm sheep travel from their wooded winter pastures (upper right in pic) into the barnyard for a drink of water, an occasional snack of alfalfa hay, and access to their mineral supplements (commercial sheep minerals plus organic kelp and DE). After getting their fill they head back out to the woods, where several 850-lb bales of mixed-grass hay are always available.
Like most farm animals in snow country, given a choice the SkyLines Farm sheep would spend the snowy winter months lounging in or very close to the warm and cozy barn. Their daily exercise regimen would consist of walking a mere 50 feet or so down a snow-packed trail they had made that loops back to the barn again. Not at SkyLines Farm!
I've always placed water and minerals a good hike away from summer pastures and winter feeding areas. I'm convinced this daily exercise program is an integral part of why the flock remains so superbly healthy, year-round and year after year. It just makes sense!
---