Photo of the
Day-Week-Month
---
October 1, 2005

In early August of this year, a reporter and photographer from my local newspaper came out to tour the farm and see what's going on here. The subsequent story and photos of SkyLines Farm ran in the paper's annual Fall Agricultural supplement, which highlights some of the diverse farming activities in our area.

Here are a few of the photos that Moscow-Pullman Daily News Photo Editor Geoff Crimmins took that day as we wandered among the sheep.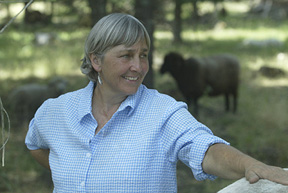 The shepherdess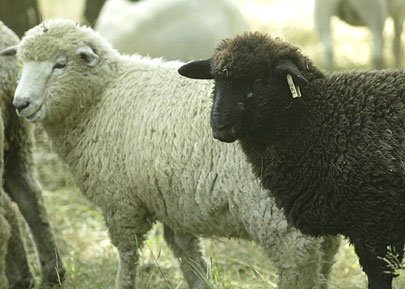 Two of the 2005 lambs, about 4-1/2 months old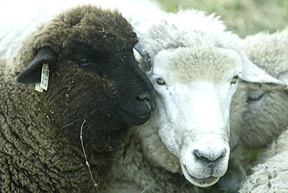 White Romney-Montadale ewe Dorothy and her twins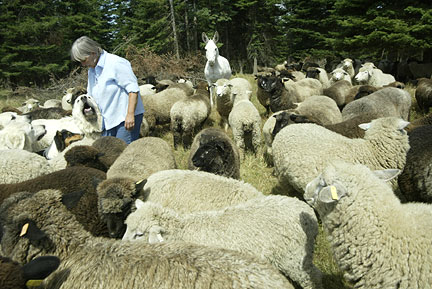 Moving the sheep to a fresh pasture is always fun, since everybody knows the routine so well. I simply stand by a gate and holler, "Gather up!" a few times. Soon 4 Great Pyrenees guard dogs, 145 sheep, 9 goats, and Peaches the guard donkey come running from every direction. Then the entire crew mills around waiting for me to open the gate to the next pasture.

At this point I always like to take a few minutes to get up-close and hands-on with the animals, just to get a feel for how everybody's doing. Here, Angus the male Pyrenees gets first hug while two of the other Pyrs and Dixie the Farmcollie wait their turn. The sheep and donkey are next.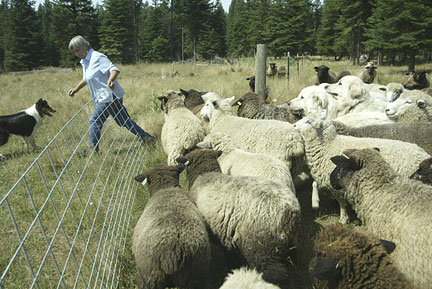 After 10 or 15 minutes of schmoozing, it's time to open the gate and stand back!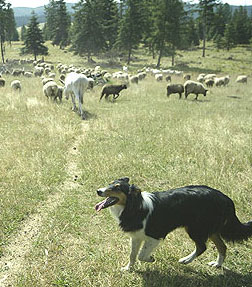 Happy sheep!
---

September 24, 2005
A group walk out to the woods to check fencelines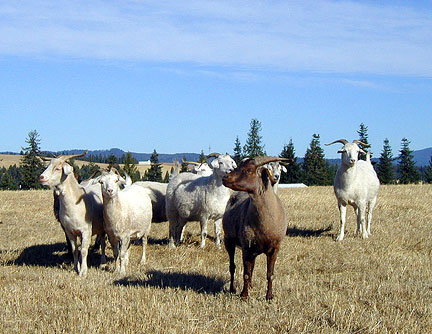 Fall is upon us, and the farm's lovely green summer pastures have slowly evolved into their wintertime shades of brown and beige. The growing green feed is just about gone now, so I've begun feeding hay. Today I'm heading out to the back woods to walk the fencelines and see what repairs I need to make before winter.
The cashmere goats always like going for walks with me, and are happily following along behind the four-wheeler. Officious-looking Brownie (foreground) has assumed the position of lead goat over the past year, and seems quite at home in his new role.

---
June 9, 2005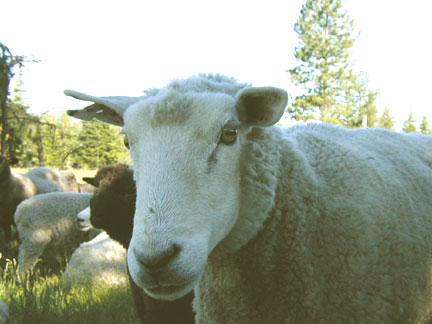 Back in 1992, the SkyLines flock consisted of just six sheep: A registered Romney ram and two registered Romney ewes, a Suffolk ewe, a Suffolk-Columbia ewe, and a Montadale ewe named April. This summer the flock numbers 145 Romney and selected Romney-cross sheep. April, the last of the original five ewes, is 13 years old now and going strong.
Though her health is still perfect, I retired April from the breeding group last year and she's living out her days in comfort and ease as the Grand Old Dam of the flock. Many of my very nicest Romney-cross fleeces have come from April's descendants (including Sylvia's lambs, below). Thanks for the good work, old girl!

---
May 30, 2005
Memorial Day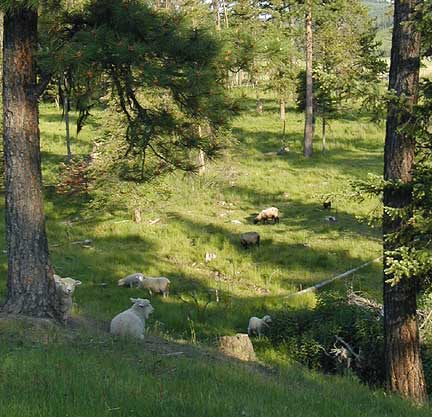 Now that the lambs are a couple of months old, and the grass is growing well, I've moved all 145 ewes, lambs, and wethers from the barn pastures out to the woods pastures. Here they'll spend the summer and fall lolling about and grazing the farm's 60+ acres of rich green grasses. Summer's here again and life is good . . .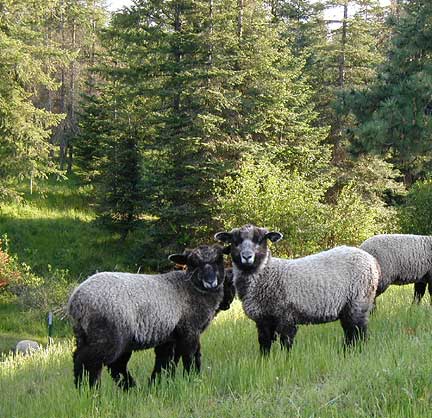 Sylvia's twin ewe lambs have both inherited her gorgeous fleece and their sire Gilroy's colorful facial markings. I normally wait till fall to pick out the year's keeper lambs, but these girls already look so beautiful at only 2-1/2 months of age that this may be an easy choice.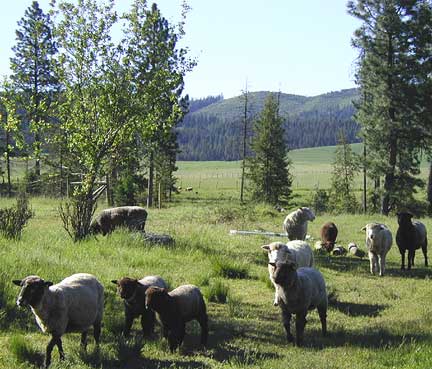 Angel and her twins (foreground left) and a small contingent of ewes, yearlings, and lambs head out of the pasture and down the runway leading to the water trough. Each of the farm's pastures open onto this central runway, so that as the flock rotates through the pastures they always have access to fresh water whenever the feel thirsty.
---
March 30, 2005
Two weeks into lambing season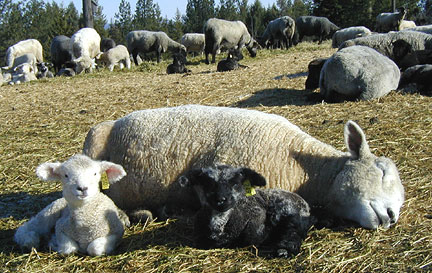 Motherhood can be so exhausting! Romney ewe Pearl catches a snooze in the early morning sunshine, accompanied by her week-old twin girls.
The first two weeks of lambing season have been busy, with more than 60 lambs on the ground so far. About 12 more ewes are waiting to deliver their lambs, and then we all get to rest for another year!

---
February 26, 2005
Annual Shearing Day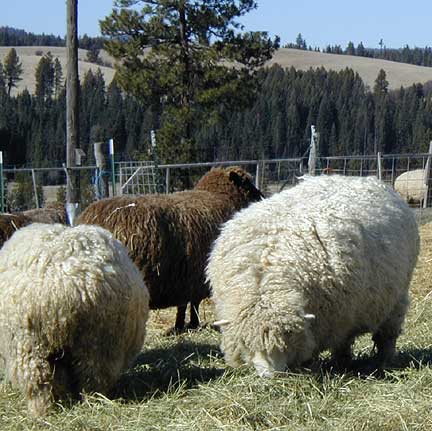 BEFORE: Three yearling ewes in full fleece . . .
AND AFTER . . . Expectant moms Gina and Ashley look so sleek with their fresh haircuts . . .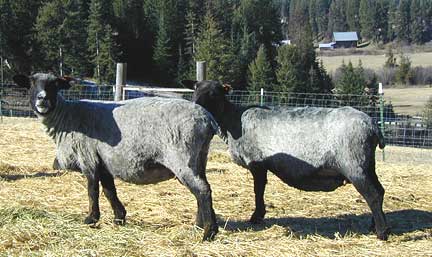 Shearing Day 2005 was downright fun! Though we sheared a total of 71 sheep this year - more than ever before - the weather made all the difference for us. On a normal shearing day everybody (including the sheep!) shivers through the entire day and slogs through a wet, mucky path to and from the barn. This winter has been unusually dry and warm however, and today the temperature soared to nearly 60 degrees in the bright warm sunshine. Whee!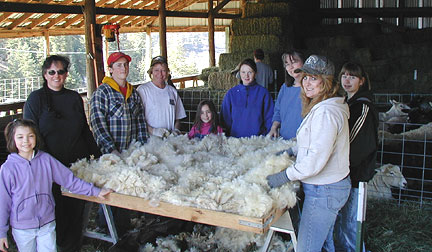 ABOVE, the 2005 crew, left to right: Kaitlyn, Mary Frances, Sam, Kasey, Rachel, Melica, Karen, Joni, Susan (Priscilla not shown, & shepherdess is the photographer). Here, the crew has just finished skirting one of my biggest fleeces, grown by (Big Momma) Emma.

---

February 2, 2005
Groundhog Day
Well, it looks like we're in for six more weeks of winter as the SkyLines sheep all saw their shadows today. The dire news was just fine with me, since the temps in this unusually mild winter have been in the 50's for the past few weeks! Here, some of the ewes have been happily nibbling on a little spot of green grass remaining from last year. The dark girls are Romneys (left to right) Gillian, Ariel, Georgia, & Julie. The two white girls are Romney-Montadale crosses Mary & Dorothy.

Below, some other members of the SkyLines family are also enjoying the warm afternoon sun . . .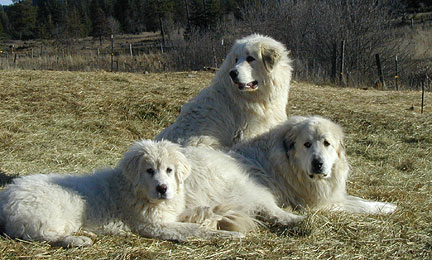 Three-fourths of the current SkyLines Great Pyrenees guard team. Here, youngsters Vera (left) & Daisy (top) hang out with their mentor, the more experienced guard dog Emily. Ångus is off on a mission at the moment and too busy to be photographed.

| | |
| --- | --- |
| | Jessica, arch enemy of all barn mice and gentle friend to everyone else. |
---

January 1, 2005
Scenes from New Year's Day
The new year is starting out with a cold, grey, hazy day and only a few inches of snow on the ground so far. With their warm winter coats on, the sheep don't seem to care about the amount of snow either way, but the shepherdess certainly enjoys a break from winter plowing chores!
My friend Kate brought her beautiful Great Pyrenees girl Sasha over for a conjugal visit with Angus last fall, and together they produced a litter of gorgeous pups. Here, little 9-week-old Vera tries to lure her dad into a game of chase while he visits her pasture, but he's busy and utterly ignores her teasing.

Vera's living in this pasture for her first few weeks so she can begin to bond with sheep, but she'll soon join the SkyLines Pyrenees Emily and Daisy and their sheep in another pasture. There she'll be able to romp and play with the two older females while also beginning her serious guard dog training.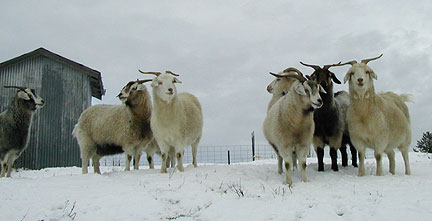 The cashmere goats don't seem to mind snowy weather either, but of course they're wearing cashmere, one of the world's warmest fibers! Just as in this photo, the goats always stick very close to each other, particularly when they're traveling across a pasture. It's just fascinating to watch this small herd of 11 goats move through their environment as one, so smoothly and quietly. They always remind me of school of fish moving through the water as one, with barely a ripple. Though I dearly love the sheep also, it's become a real joy to share my life with these other interesting, intelligent creatures.



SkyLines Farm 4551 Highway 6 Harvard, ID 83834 208.875.8747
Purebred Romney and Romney-Cross Sheep