December 31, 2007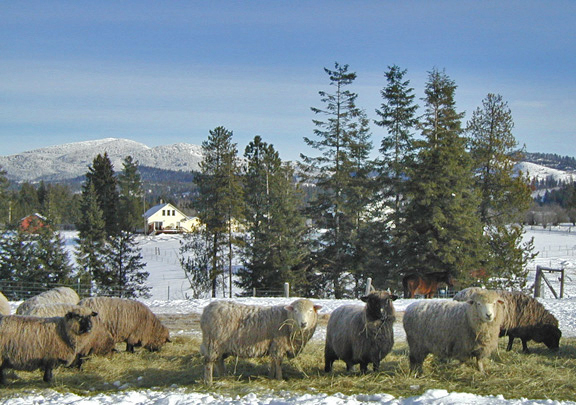 This is the perfect winter pasture. It's close enough to the farmhouse (in the background) that I can keep on eye on the sheep with binoculars between daily feedings, but far enough away to deposit their manure exactly where I want it to end up. The pasture includes 5 or 6 acres of fairly open, hilly ground for lots of exercise as they walk to the water tank, plus about 5 acres of dense trees that provide wonderful shelter from the winter weather.
All the critters - sheep, horse, donkey and Great Pyrenees guard dogs - stay here from late fall until Shearing Day in early February. After that (sans their warm winter coats) the sheep move to the smaller barn pastures near the house for lambing season, where they have free access to the warm barn and it's easier for me to watch for babies.
This year I finally purchased a farm tractor. Finally...after years of feeding many small 60 lb. bales by hand every winter day, I'm now delivering one large 850 lb round bale of hay by machine every few days. Wheeeee!
Here, I've rolled out about half the bale on clean fresh snow and then encircled the rest of the bale with a hog panel. I'd heard much ado about how difficult it was to feed round bales to sheep without getting hay (VM) in their fleeces, but this system is working just great for me. The sheep reach through the openings and also stand on the ribs to reach over the top to the hay. Once the bale is nearly gone I remove the hog panel and they finish off the small pile of hay within a day.
Fleeces are staying as wonderfully clean as ever and the shepherdess has a new lease on life. Whee again!
(Note: I'm feeding grass hay in these bales. I wouldn't attempt it with a round bale containing any leafy alfalfa.)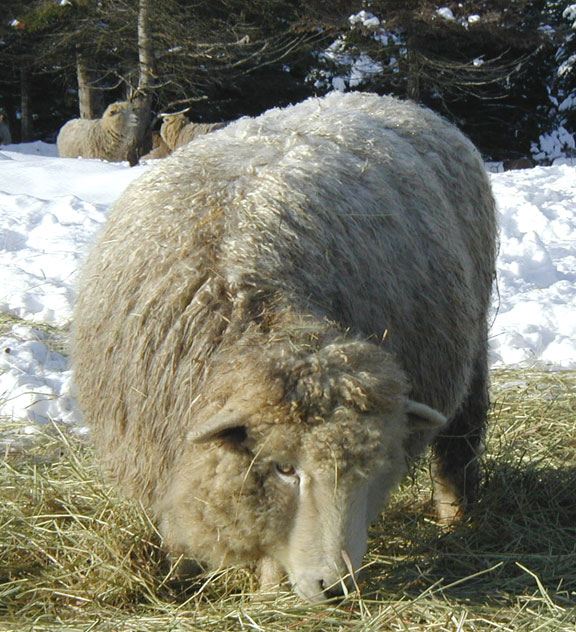 Romney ewe Peggy Sue modeling her always-sweet, always-VM-free fleece.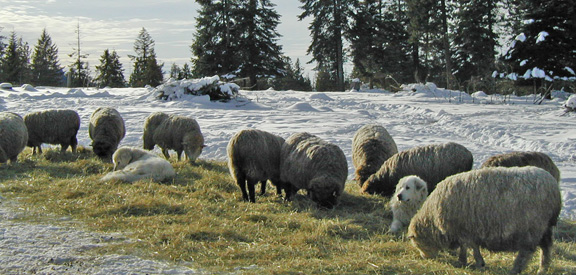 The Great Pyrenees guard dogs are enjoying the new feeding system too. Here, two of them lounge among their charges on the soft, warm river of hay.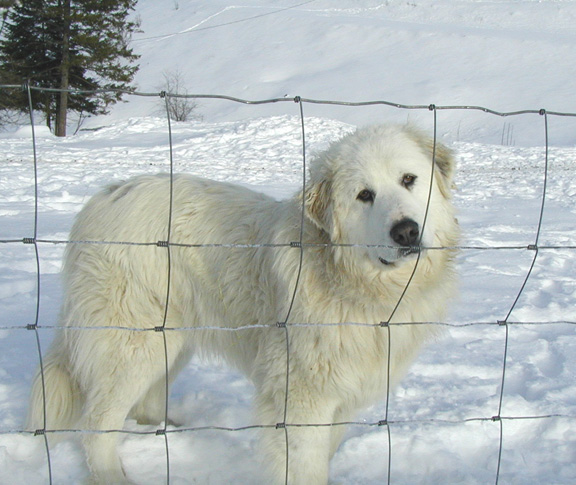 Lily is a 14-month-old Great Pyrenees female that I purchased as a pup from another breeder. This girl is extremely intelligent and already a fabulous guardian dog for one so young. Lily will soon join Daisy as the #2 female in the SkyLines livestock guardian dog (LGD) breeding program. No doubt Angus will be pleased...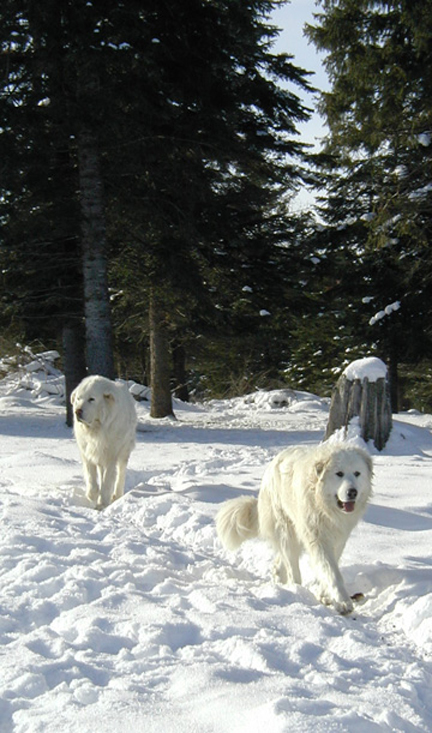 Great Pyrenees Angus (left) and his daughter Stella return from a jaunt to check out the woods. All appears to be well...
---
June 28, 2007
A visit to the sheep in summer pasture . . .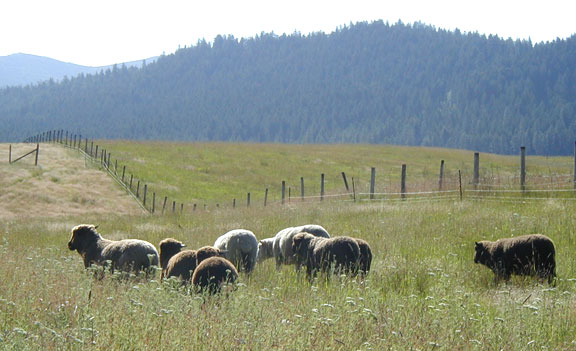 Today's going to be a hot one. By 10am when I arrived at the pasture, most of the sheep had already headed into the woods to spend the hottest part of the day lounging in the shade. These three ewes are among the last to go in to shade, taking their lambs with them.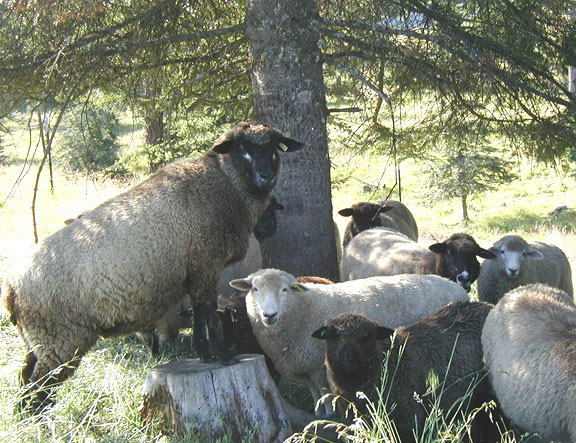 Well it looks like everybody's getting enough to eat this year, especially the portly ewe showing off here!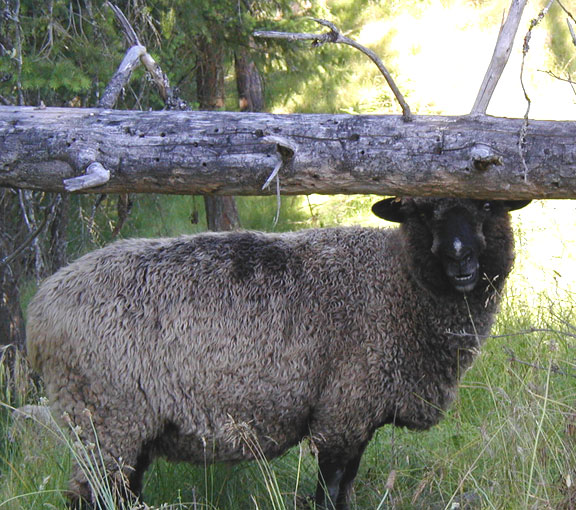 Another well-fed girl . . .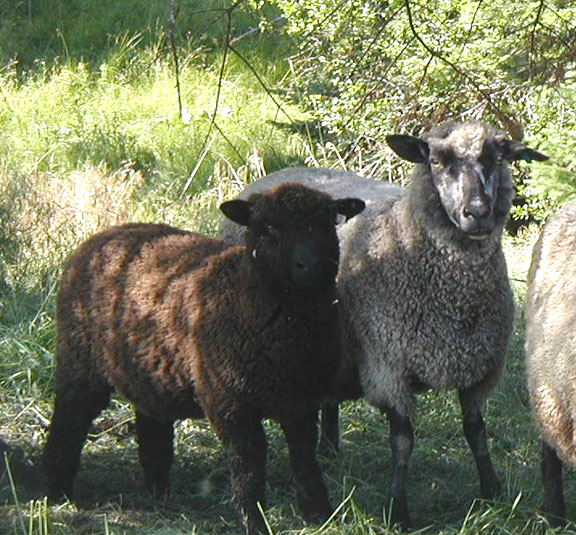 Margaret and her single ewe lamb. Singles usually grow at a tremendous rate compared to their twin counterparts, since they don't have to share their mom's bounty with a brother or sister. This pretty black girl is growing out quite well!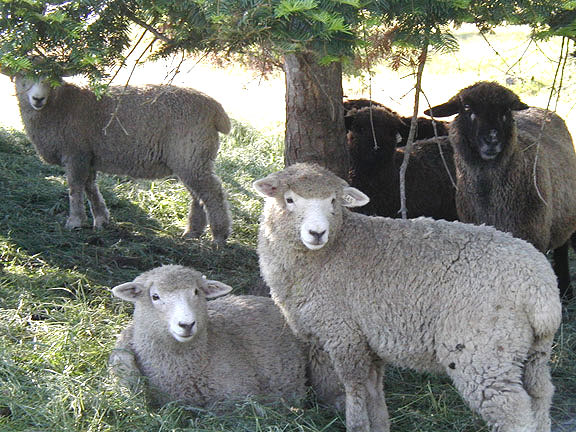 More lambs enjoying the shade.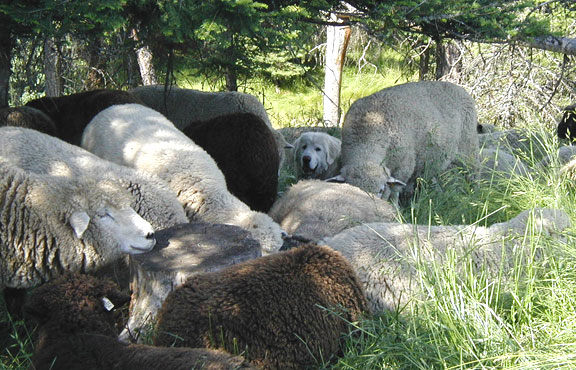 Settled in comfortably among her sheep, Great Pyrenees dog Vera keeps her eye on me. Vera is a terrific worker and one of the six Great Pyrenees livestock guardian dogs currently watching over the SkyLines flock.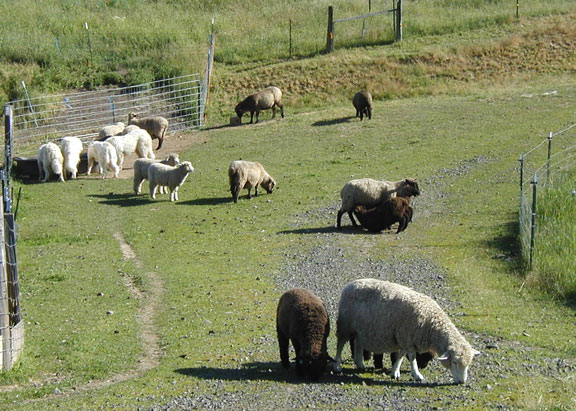 As I headed back toward the house, past the water trough, four more of the Great Pyrenees dogs were there having a cool drink. These exceptional guard dogs very rarely leave their sheep unattended. This morning Vera and Daisy have stayed in the pasture with the main flock while Angus, the pups, and several ewes and lambs traveled down the runway to water. Good dogs!
---
April 1, 2007
One month into lambing season and it's almost over already . . .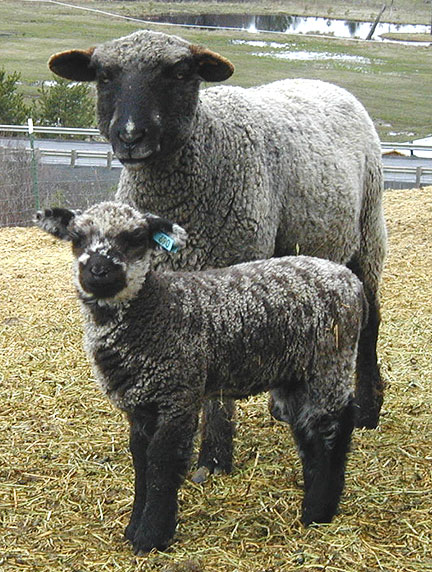 Romney Polly and her colorful ewe lamb. This pretty girl may grow up to have a really interesting variegated fleece!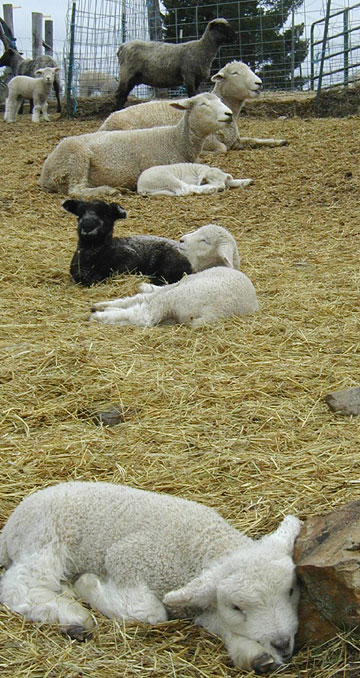 Aaah, life is good. Ewes and lambs lounge on a warm afternoon.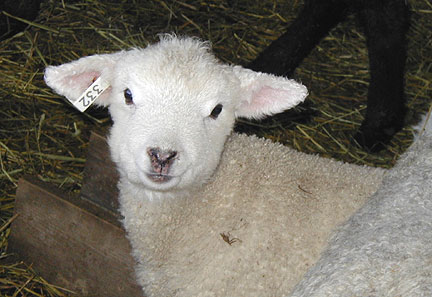 Louise's lambs both inherited their mom's yummy fleece.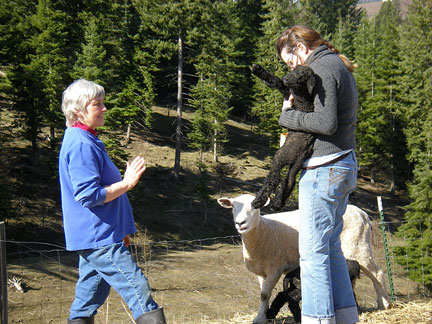 The first annual SkyLines Hands-On Lambing School Workshop was held in the middle of lambing season, so participants could actually get hands-on, real-life experience managing a lambing season. Here, one of the attendees get first-hand instruction from me in treating a newborn lamb's navel with iodine. Mom looks on while her other newborn lamb figures out where the feeding spigot is.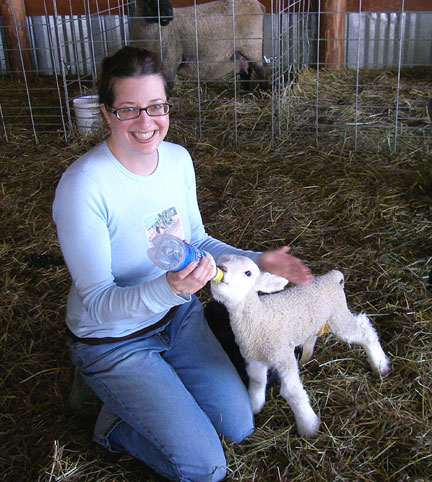 Feeding the bottle lambs was another task for attendees in this year's Hands-On Lambing School. Looks like it was a big hit with Ariel!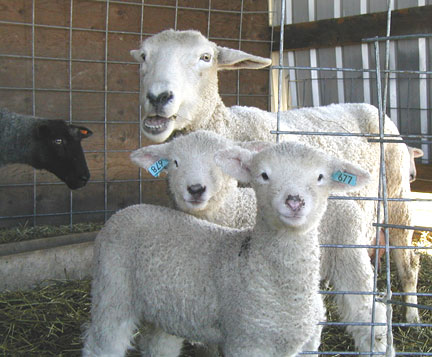 Romney Peggy Sue and her perky boy-girl twins.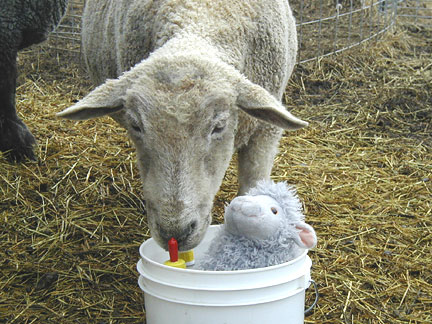 Annabelle & friend . . .
---
March 3, 2007
Lambing Season Begins . . .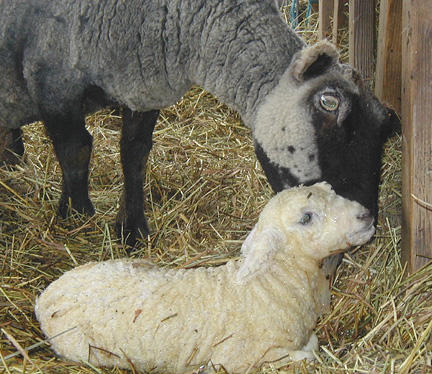 The first ewe to lamb this year was Sabrina. Here she tenderly cleans her #1 twin girl, still wet and only about 10 minutes old.
---
January 26, 2007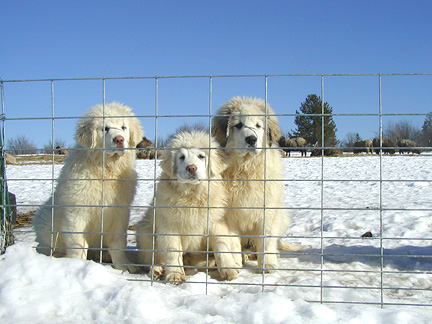 So far, it's been another quiet winter - colder than usual but not much snow. Angus and Daisy's Great Pyrenees pups are growing fast and learning fast. They're spending the winter with their mom and about 25 of the ewes and wethers, bonding with the sheep and learning basic LGD behavior.
Here, the 14-week-old pups (l to r: Stella-Maggie-Ben), ever alert, keep a close eye on the house dogs who accompanied me out to the pasture. They're cute and cuddly and enjoy affection, but these dogs already know they have a job to do!
---