Photo of the
Day-Week-Month
---
December 18, 2002

The first snow of the season finally arrived last night, about three weeks later than normal. It only snowed enough to put a dusting over the ground and the sheep, but it's a start.

When I went out to feed this morning, Dorothy seemed to be asking what this white stuff was on her back, as though she'd never seen snow in all her years of living in Idaho.

How quickly we forget!
December 6, 2002
Romney sisters Emma, Sally, and Pearl enjoy a lazy afternoon in the sun, on this remarkably warm December day.
The temperature here on the farm dropped to 3 degrees (brrr) during Halloween week. Then it warmed up again and has stayed in the upper 40's and 50's for over a month, with absolutely no snow at all (a rare event around here).
This unusually dry fall, with downright pleasant temps, has meant that I could actually complete my entire fall project list. A first!
---
November 12, 2002
Angus the new Great Pyrenees puppy has joined the sheep guard dogs King and Emily, and is now learning how to be part of the SkyLines team. Today, Angus (reclining) and Emily (seated) are on duty with King in the fall lamb pasture.
At only 11 weeks old Angus is still very much a baby, so right now he's sticking fairly close to Emily for security as well as guidance. Emily in turn seems to be really enjoying her role as surrogate mom, keeping track of Angus and making sure that the lambs don't get too pushy with the little guy.

---
November 11, 2002
Love is in the air....
Breeding season is in full swing now at SkyLines Farm with three Romney rams in service - two natural-coloreds and one white. Ernie, our new white ram, is deeply in love with the Romney ewe Maxine today. It's been a busy week for this yearling ram. Over the past five days Ernie's also been in love with April, Lily, Nadine, Julie, and Grace. He has eight more ewes to romance this fall, and then he gets to rest for another year. The other two rams are equally hard at work with their respective ewes, in separate pastures. What a life!


---
October 1, 2002

Angus the Great Pyrenees puppy is the latest addition to the SkyLines family. He's only five weeks old, and already has won the hearts of just about everybody around here.

In fact, Buster the wethered male (below) has decided to adopt Angus as his own. Buster seems to enjoy the puppy's attentions, and treats him with great tenderness.

Angus is too small now to go out into the woods pastures with the main flock, so he's living in the winter barn area with Buster and the rams. For now, it's enough that he bonds with a few sheep and starts to learn basic rules like "Don't jump on people" and "Don't bite sheep."

When the rest of the sheep and the other two Pyrenees, King and Emily, come in for the winter, Angus' real training will begin. King and Emily will start teaching him his place in the pack and how to be a real guard dog. By next summer he will be a contributing member of the SkyLines guard team!
---
September 19, 2002
SkyLines' sheep guard dogs King (l) and Emily (r) often enjoy hanging out together while they keep an eye on their sheep. Not visible in this photo, all of the sheep are resting down in the trees, staying cool on this hot afternoon.
Though this pasture still contains plenty of feed, the once-lush area is rapidly turning brown with September's hot dry days and cold nights. I've been saving the season's last green grazing area, the hayfield, for "flushing" the ewes before breeding. This involves increasing the nutritional value of their feed in the weeks before breeding, a practice that helps improve the chances for multiple births. The ewes will move into the hayfield at the end of this month, and then breeding will begin in mid October.
See Management Practices>Predators for more info on King and Emily's important role at SkyLines Farm.
---
August 10, 2002
During the dog days of summer, the sheep graze in the forest pastures (surrounding barn in photo below), where they spend midday lounging in the dense shade of pines, firs, and spruces. The low-hanging branches help keep flies at bay, and provide a wonderful, cool respite from the 90-100-degree heat.

---
July 23, 2002 - Haying season
Haymaker Lee Nicholson carefully guides his tractor and swather over the SkyLines hayfield. In a few days, once the excess moisture has evaporated from the grass, he'll go over the field again with his baler, which scoops the grass up and compresses it into compact 60-lb. (girl-sized) bales of hay. Then a crew of boys will come in, pick up the bales, haul them into the barn on a flatbed truck, and stack them all the way to the rafters. What a great feeling every August, having the winter's food stacked neatly in the barn, all ready to feed on those cold winter days!

---
July 2, 2002
Stella was one of the last ewes to lamb this year. Her twins were born on June 13, and are shown here having a snack. Many charming illustrations of sheep show a ewe sniffing noses with her lamb. In reality, that's a rare sight. This one is much more common, as the ewe checks under each lamb's tail to make sure that it is her own lambs who are nursing. The ewe recognizes the scent of her own milk that has passed through the lambs, making this method of identification much more reliable than a visual inspection (particularly in a large flock with lots of lambs!)
---
May 13, 2002
The 2002 lambing season is well underway now, and it's shaping up to be a terrific year for colored lambs. Out of the nineteen lambs born so far, fourteen of them are natural-colored!
All SkyLines natural-colored lambs are born with wool that is either pure black like these babies, or very, very dark grey. However, by their first shearing (next spring), the majority of the lambs' fleeces will have evolved into what will be their permanent color, which ranges from very dark to medium grey, to pale dove grey or a soft oatmeal color.
Some of the fleeces will also be variegated - consisting of a range of colors from light to dark. Many spinners like working with variegated fleeces because of the interesting one-of-a-kind yarns they can produce from them. Elmer, the ram who sired most of these lambs, has a wonderfully variegated fleece, which he frequently passes to his offspring.
---
April 28, 2002 - Lambing has begun!
Dorothy was the first ewe to deliver a lamb this year, and here she tenderly cleans her baby moments after his birth.
---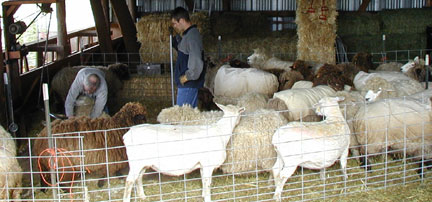 April 13, 2002 - Annual Shearing Day
This is always a long, hard day for everyone at SkyLines Farm, but it's a good day too. The sheep obviously feel great about getting rid of that thick wool coat now that warmer weather has arrived, and the shepherdess is always thrilled to see the fruits of an entire year's labor.
Here, shearer extraordinaire Martin Dibble and helper Jesse Tibbetts have finished the first two white ewes (Mary and Gretchen, foreground), and are just starting on the third. The rest of the sheep calmly await their turn.
One of Jesse's jobs is sweeping the plywood shearing floor after each sheep, so fleeces aren't contaminated with the previous's sheep's wool. He also escorts each sheep over to Martin and together they carefully tip her on her haunches for shearing. Gentleness is particularly important since the ewes are pregnant and due to lamb late April and into May.
See Management Practices>Fleece Management for details on how we keep SkyLines fleeces so clean.
---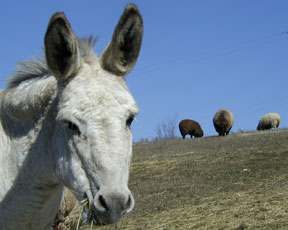 April 3, 2002
Hurrah! The snow has finally gone. The pastures are showing just the faintest hint of green, but they're getting greener every day. Today, Peaches the guard donkey and the sheep are out enjoying the mild weather and looking for goodies. This time of year everybody's tired of eating dry hay, and they're happy for even the shortest blades of fresh green grass.
It's hard to imagine, but before long this brown winter pasture will be brilliant green with new spring growth, and covered with bright cheery dandelions. Considered weeds by some people, dandelions are actually loaded with nutrients and are a wonderful spring tonic for animals and people alike. Their long taproots reach deep down to the subsoil and draw up the nutrients that are locked there. The animals all know that dandelions are good stuff, and eat both the leaves and the flowers with relish.
---
March 8, 2002

Enough, already! Isn't it spring yet? A surprise snowstorm moved through last night. When I went down to feed the rams this morning, all I saw was white lumps in the snow with faces attached. (All of the sheep do have access to barns, but they often choose to sleep outside instead.)

Below, left to right: Up and about now, the Romney wether young Julius and adult Romney rams Felix and Elmer wait patiently for their breakfast.
---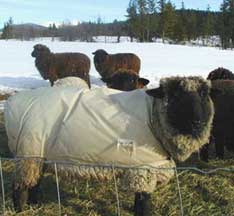 February 20, 2002
This photo of the wether Buster, shown with some of the 2001 lambs, illustrates a sheep that has very obviously outgrown his coat. Shame on me! All the sheep will be getting larger coats before the month is out.
These synthetic coats, which Belinda Morgan imports from Australia, are the toughest I've found so far. The 100% cotton canvas ones are very soft and look very nice, but they can be shredded in a single day if the sheep finds a sharp edge somewhere in the barnyard and decides to use it as a scratching post. I do like to use the cotton ones right after shearing, though, when the sheep has virtually no wool growth to protect her skin.
---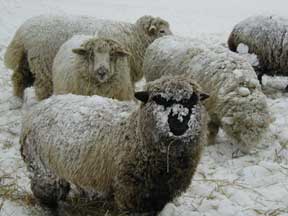 New Year's Day, 2002
New Year's 2002 brought yet another in a long round of snowstorms to north Idaho. Here, some of the 2001 lambs finish up their breakfast on the first morning of the new year.
A great thing about a snowy winter is that the sheep can eat outside of the barn every day, on a plate of clean, freshly fallen snow. This gives them the chance to get some much-needed exercise, it deposits their manure where I want it to end up anyway, and it sure saves labor during the summer barn cleaning! (Needless to say, they're warm and toasty in the coldest weather, under those thick wool fleeces.)
SkyLines Farm 4551 Highway 6 Harvard, ID 83834 208.875.8747
Purebred Romney and Romney-Cross Sheep